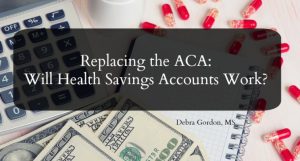 The problems with high-deductible plans and health savings accounts
Note: I am beginning a series of posts examining various approaches the Republicans are touting as replacements for the ACA. Sorry, but no alternative facts here.
Several years ago (ie, pre-ACA), I needed to buy health insurance on the open market. The cost of an individual policy and the deductible was atmospheric because I had a pre-existing condition. And, of course, the policy didn't cover costs related to my pre-existing condition.
Luckily, I had just incorporated my business. Since I had two employees (my husband and I) I could get a small business policy. Still expensive but manageable with decent coverage since employer-provided plans can't discriminate based on pre-existing conditions.
I chose the cheapest plan, which came with a very high deductible. This plan also allowed me to create a health savings account (HSA). Money deposited into an HSA is not subject to federal taxes, grows tax-free, and is not taxed when used for qualified medical expenses (but not premiums).
What a Health Savings Account Can't Do … Continue Reading