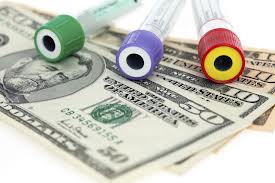 When I speak about the US healthcare system, I always like to tell the story of my mother. A couple of years ago, she emailed my sisters and I. "Good news!" she wrote. "My nuclear stress test was normal!" (The test  involves injecting a radioactive dye into a vein after which a special camera scans the heart to determine if there are any blockages).
At the time, my mother was 70 and, with the exception of very-well-controlled high blood pressure (that she'd had all her life), extremely healthy. No sign of heart disease. No angina. No shortness of breath. In short, no indications for an expensive, invasive, potentially dangerous, test. So why, I asked her, did she have the test? "Because my doctor told me it was time," she said.
At which point I began banging my head against the wall.
Even regular stress tests (where you run on a treadmill or ride a bike) are only recommended in people with heart disease or symptoms of heart disease, same with an EKG. Yet a survey of nearly 1200 people ages 40 to 60 with neither found that 39 percent had an EKG … Continue Reading