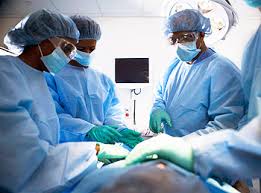 I knew this would be the toughest audience yet in my three years of teaching/speaking about the US healthcare system and healthcare reform. I even put on a flak jacket at the beginning of my talk as a way of breaking the ice (and protecting myself; I mean, these guys pack scalpels!). And I made it through the two-hour talk and their anger without losing my composure or my sense of humor (thank god for that sense of humor).
Now I'm sitting in the airport waiting for my flight home and find myself tearing up. Not because the doctors were mean or cruel — they weren't — but because of how much distance there is between  reality and perception, how much anger is out there, how too many people rely only on anecdotes and commentary instead of facts to develop opinions, and how scary it is to look at where we are and where we need to be — and realize that, more and more, it is unlikely we will ever get there given the rhetoric and anger in this country.
The doctors this morning, most of whom have been in practice for 30 years or more, are angry because the system they signed on for no longer exists. Their reimbursement has been slashed; their overhead skyrocketed; their regulatory requirements quintupled. It's a brave new world of medicine out there — one they never asked for and don't want.
I understand that. My heart goes out to them. I know they are good physicians who care about their patients; doctors who thought they were taking a flight to New York when they finished their residencies and instead have ended up on Mars. But, as I tell my kids, it is what it is. We have a broken system that requires changes. Whether the Affordable Care Act had been enacted or not, many of these changes would still be occurring.
Bottom line: The status quo is unsustainable.
Not surprisingly (and bless their hearts!), my surgeons disagreed. Here are some of the things they "shared" with me this morning:
The United States has the best healthcare system in the world, which is why shahs and sheiks and presidents come here for care. The study I cited showing just the opposite didn't change their opinion.
Malpractice reform would solve a great amount of the financial issues in the system. As most of them told me, the malpractice environment drives them to practice defensive medicine (ordering unnecessary tests, providing possibly unnecessary care) because they have no choice. In addition, they said, their malpractice insurance is their largest overhead. For the record: defensive medicine contributes a relatively small portion to overall healthcare costs/wastes according to this study, and malpractice reform in Texas didn't help at all, as this report shows. Which isn't to say we don't need tort reform; we do. Just to say that it won't result in any significant change to the cost curve.
The Government is to blame.
Hospitals and insurance companies are the equivalent of King Joffrey Baratheon (from Game of Thrones for those who don't know). Of course, the King was killed, so there's hope.
If you keep evaluating doctors based on outcomes, good doctors will quit and/or  stop seeing/treating complicated patients and then what will patients do?
The Government is to blame.
Having healthcare amount to 20% or higher of the GDP (as predicted by the end of this decade) is fine, since that shows economic activity. Yes, but if governments and corporations are spending one out of every five tax dollars on healthcare, that leaves much less for spending on activities that drive employment and economic growth, such as capital and infrastructure investment. It also negatively affects household spending, pulling additional dollars from consumer spending, which is the greatest driver of the economy. In fact, the increased healthcare costs that have been passed onto consumers in the past decade in the form of higher deductibles, coinsurance, and premiums have wiped out any real income gains for the average US family, according to this study.The Government is to blame.
The studies I shared, including many in the peer-reviewed journal Health Affairs, come from left-leaning organizations and thus are not valid.
Now, in all fairness, not everyone in the room said these things. However, the only people who spoke said these things. And, in all fairness, these guys just needed to vent. Unfortunately, I just happened to be in the line of fire.
When I speak, I always ask the question: "Is health care a right or a privilege?" That usually stops my audience in their tracks and it did this time, too. They really couldn't answer.
The reality is that none of us have  answered this question yet. Until we do, we cannot truly engage in serious change in the system.