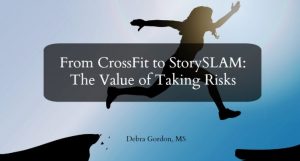 In honor of Thanksgiving and the start of the holiday season, I'm taking a break from my rants about the election and health care. Instead, I want to talk about taking risks.
I've never been a risk taker. I don't gamble. I'm extremely financially conservative. I would never go on vacation without a hotel reservation. The biggest risk I've taken in the past 20 years was starting my own business.
But as I move through my 50s (I turn 54 November 30) I'm also moving out of my comfort zone and starting to take more risks. It began two years ago when I started CrossFit, the uber exercise program that combines strength training with cardio with gymnastics. To understand how unlike me this was, you should know that I hated exercising and did the bare minimum required so I could drink as much wine as I wanted and still fit into my clothes.
Then came an hour of daily torture that often left me close to tears and literally on the floor staring at the ceiling certain I was going to die.
For some reason, though, I kept with it, hitting the "box" nearly every day.
The day I learned to climb a rope was one of the high points of my life (seriously). Then came the day I did my first handstand. Followed by my first handstand pushup. Then my first pull-up. Then my first double-under. The first time I deadlifted more than 200 pounds, or cleaned more than 100, or pushed 95 pounds of steel over my head, locked out my arms, and stood there until a judge nodded and I sent the whole thing crashing down, gave me a sense of achievement that no byline or promotion or project ever has.
Growing Stronger, Getting Smarter, and Learning to Fail
The point here is that at a time of life when many people I know settle into inertia, particularly when it comes to their bodies, I've found that my body can still surprise me. I've learned that, much to my surprise, I can still get stronger and learn new things even in my 50s (and, hopefully, 60s and later).
CrossFit has also taught me how to fail. When the weights are too heavy, when I can't do one more pull-up, when I have to run/walk rather than run the entire way, I'm OK. I know I've done my best, tried my hardest, and I'll just try again another day.
Today, failing means not trying.
That confidence is now spilling over into other parts of my life. About a year ago, my husband and I took a huge risk when he accepted a new job and we moved halfway across the country without knowing a soul. Today we have a rich life filled with new experiences as well as a wonderful circle of friends.
Sharing My Story with Strangers
But the story I want to tell occurred a few nights ago when my husband and I, our oldest son (in town for the holiday), and a few friends went to a Moth StorySLAM. If you don't know, the Moth is a storytelling program that airs on NPR. StorySLAMs are held in bars and other small venues. People who want to tell a story put their name in a bag and the host pulls out 10 names. Then you have five minutes to tell a story based on the night's theme.
I wrote a script that morning thinking I might put my name in the bag. By that afternoon, though, I'd changed my mind. Then we got to the venue and I decided, "What the hell," and put my name in the bag. Then, after watching the first five people – who had fantastic stories they'd obviously spent a lot of time on and memorized – I asked my son and husband if I should leave my name in the bag. They both suggested I pull it out. "You should definitely do it, mom," my nearly 30-year-old son said, "but you really should practice it."
Then I thought about the handstand. The rope climb. The fact that nearly every day I spend an hour completely outside my comfort zone, often working out alongside 20- and 30-somethings with abs hard as rocks.
So I left my name in.
I was the eighth one called. My delivery was uneven. I pretty much winged it. I think I got the lowest scores of the evening.
But I had a blast.
Afterwards, I felt as high as I had at the top of that rope.
Next time I'll practice and have my story memorized. Because I can tell you, there will be a next time.
And I'm not limiting this exploration to my outside life. It's time to challenge myself more on the work side. More speaking? Teaching? Consulting? Not sure yet. But when the feeling hits where I have an idea and one side of my brain says I can't do it while the other side says I'll regret it if I don't do it, guess which side I'm going to listen to?
What are you doing to get out of your comfort zone?