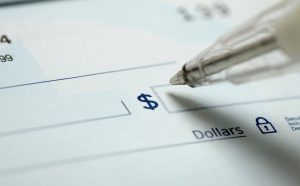 No, I'm not Santa but I'm still making a list. Unlike Santa's list, this one only includes those who have been naughty. Specifically, companies that use freelance medical writers but do not pay within a timely manner (i.e., 45 days from invoicing); do not pay at all; or significantly change the scope of the project but balk (or walk away) when the writer tries to change the scope of the fee.
This list was triggered by a Tweet from someone about Time Inc., and NBC charging freelancers a percentage of their fee if they want to be paid in a timely manner. Imagine that. If you want to be paid within a month or so, you have to agree to give up 4% or so of the money owed you.
There is just so much wrong with that thinking I don't even know where to start. My outrage might be the result, in part, of my own payment woes. As I wrote in an earlier post, I have a client who just informed me they are paying at 90 days or later and there is nothing I can do about it. The reason they are paying me so late? Because their client has not paid them!
Well, now I have something I can do. I'm putting them on the List.
So the next time they call a freelancer (as they called me last week) and ask the writer to take on a rush job, the freelancer will know that this is a client that takes forever to pay–and will ask for 50% of the project up front, overnight or wired into their checking account–before writing a single word.
I posted word of the "list" on the American Medical Writers' Association listserve and immediately several writers emailed me their own stories of woe. I also invited writers to email me directly to find out the name of my own late-paying client — about 15 did (15 of some of the best writers out there).
Now, let me say that I've been freelancing for 10 years and I've rarely had trouble getting paid. In fact, this is the first year I've  ever faced this problem in any significant way. I know the economy is a mess, I know times are tough. What I don't understand is why a company would alienate a vendor they need. After all, if they can't find a good writer to turn out quality work (including those rush jobs), how will they meet the needs of their own clients? Is it worth the extra percent or two in interest to alienate a writer who has learned your system, worked well with your staff, and turned in good work that pleased your client? How much more will it cost you to start all over again with another writer?
I'm trying to understand, I really am, but I just don't get it.
So I'm making a list; a list I will make available to other medical freelancers.
Have a late-paying client story to share (from within the past 2 years only)? Email me directly at debra.gordon9@gmail.com. Your name will be kept confidential; only your late-paying client will be added to the list.