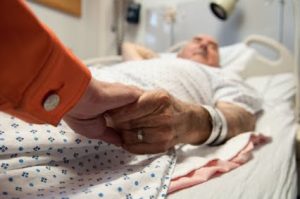 Back in the day when I was a newspaper reporter I completed a biomedical ethics fellowship at the University of Virginia Medical Center in Charlottesville, VA. In addition to sitting in on the hospital's bioethics committee discussions, I spent much of the week shadowing a nurse in the ICU.
They called her the Death Nurse because her job was to intervene with doctors, nurses, patients and families when the time came for a patient to move from the ICU to hospice. While her title was Supportive Care, she flat out told her me her job was to help people die; not actively, but from behind the scenes by helping patients and those caring for them understand when the time had come to move from curative care to supportive care (email me if you'd like a copy of the article I wrote about her).
When I asked why her job was necessary, she told me it was because it was so hard for doctors, nurses, patients and even families to face the reality of death. Her thoughts were echoed by a doctor there who was completing a critical care fellowship: "A lot of us don't know what to say because we're so uncomfortable with death," he told me. "When someone who is not part of the team says this is ridiculous, it's time to stop, we listen."
I bring this up because I completed that fellowship 13 years ago. One would hope that things had changed since then, that more openness and discussions about end-of-life care would have moved us towards a recognition that sometimes death is not a failure, but a success. Unfortunately, however, that doesn't appear to be the case. Last week, a study published in the online edition of the journal Cancer on the results of a national survey of physicians caring for cancer patients found that most doctors aid they would "not discuss end-of-life options with terminally ill patients who are feeling well, and instead would wait for symptoms or until there are no more treatments to offer."
Why? Why not talk to your patients about how they want to die, just as you talk to them about how they want to live, how they want to address their disease? Why not talk to them about how you will manage their pain and keep them comfortable as death approaches? How you hope this will give them and their families time to  reach closure in their personal and financial relationships. Give them time to come to terms with this next stage of their life.
These are not easy discussions to have. They take time and, for many doctors, additional training. Earlier versions of the healthcare reform bills now pending would have provided reimbursement under Medicare for doctors who had such discussions with their patients; but, of course, cries of "death panels" doomed that component.
So, I ask you, what is the answer? How do we learn to talk about death with one another, to stop fearing it, to understand that there is no way of avoiding it, and to accept that a death we have some control over will generally be a much better death than one that sneaks up on us?
Let me hear your comments.