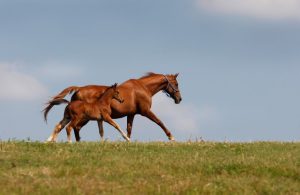 Many have asked me: How can I make sure that my freelance medical writer is happy? For, as any freelance medical writer knows, we can be an ornery lot, arguing over the merits of yellow vs green when highlighting PDF references; Endnote vs RefMan; the true meaning of a P value. Yet, like any high-strung, thoroughbred, given the right care and feeding, your medical writer can be your greatest asset.
To that end, here is my advice on the care and feeding of your freelance medical writer.
1. Be specific in your commands. I just met with a new client about writing needs assessments. Rather than verbally explain things to me (and the other freelancers he uses) he handed me a folder. Inside was a sample needs assessment with his comments as to what worked and what didn't work. He also included a sample letter of agreement and a checklist for identifying potential faculty. It was only my years of training that prevented me from leaping across the table and hugging him.
2. Commit to your training regimen. You know how much it costs to recruit, hire and train a staff employee. I'm always struck by how few clients consider the same costs when recruiting, hiring and training a freelancer. Yes, there are a lot of us out there. But, having hired some freelancers myself, I can tell you the quality varies significantly. So if you find one who is even 75 percent great on that first project, put in the time to bring her/him up to 100 percent rather than setting her loose and calling the next (unknown) freelancer on your list. That means telling your freelancer what worked with the project and what didn't, then giving her/him another project. If the freelancer can't bring it up to 95-100 percent on the second project, then you have my permission to send her/him out to pasture and bring in a fresh recruit.
3. Train your freelancer. You train your staff employees, right? How about a training session for your freelance cadre on such things as your sales module templates; how you prefer referencing be done; how you want performance assessments written? I'm attending a webinar tomorrow that a potential client has arranged on needs assessments for his freelancers. I'm willing to put in an hour of (unpaid) time because I know how valuable it will be–both for this client and for others.
4. Pet and discipline your freelancer. Whether the feedback is positive or negative, send it on. Freelance medical writers have thick skins–we wouldn't last in this business if we didn't. If you weren't happy, don't just write the freelancer off and cross their name of your list, tell him/her, even if you don't plan to use them again. Conversely, if you were happy, send a brief email. I've even received forwarded emails from the client's client–something that means more to me than any check (although payment is always nice). Which brings us to our next recommendation.
5. Feed your freelancer well. As you know, if you've read some of my other blogs, you get what you pay for. So if all you care about is the cheapest price, go for it. Then track how long it takes you to "fix" what you paid for. Quality freelancers with years of experience cost more. They cost more because they have those years of experience (think about it, would they have lasted 10 years if they weren't good?) because they make the investment to keep themselves updated in technology, regulations and rules, because they never stop learning. You might pay a bit more, but I guarantee you, you will save far more on the back end in terms of rewriting and frustration.
6. Feed your freelancer on a regular basis. This is a corollary to the recommendation above; but when you contract with a freelancer for a job, you are also contracting to pay him/her in a timely manner, not when your client pay you! That means within 30-45 days; not 90 days or more.
7. Don't push your freelancer too hard. If you run a 1-year-old filly in four races in four months, you wind up with an injured filly who never wins. The same thing happens when you expect a freelancer to research and write a quality, 2-hour sales module training, complete with annotated references, in 4 days–with no warning. Good freelancers are usually booked several weeks out; and good freelancers know that it takes more than a week to turn around an intensive project like that (one that will sail through legal/regulatory/medical review).
8. Loosen the reins. Freelancers work on their own for many reasons, but everyone I know agrees on one major one: We don't take well to micromanaging. We have no problem providing weekly reports on our progress on long-term projects, etc., but please don't call every afternoon and ask how much writing we got done. Please don't expect us to maintain the same writing schedule as your in-house employees. I know freelancers who work from 3 p.m. to 2 a.m. And I know freelancers who work from 6 a.m. to noon; then again from 5 to 9 p.m. If we commit to a deadline, we'll get it to you, we promise!
These are just a few suggestions from within my own rattled brain. I can promise you that it's worth it to care and feed your freelancer well; it means your projects get pushed to the top of the list, that your freelancer will work nights and weekends and rush projects; that your freelancer becomes part of your team, eventually channeling you and your clients and requiring less and less oversight.
I'd like to hear from other freelancers on their suggestions and, in particular, I'd like to hear from clients about their own issues. I promise another posting later, this time on the Care and Feeding of the Client!