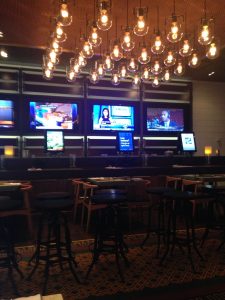 You see the photo to the left? That's a shot of a restaurant in Terminal D at La Guardia airport. In fact, the entire terminal looks like that, with iPads at every seat in every restaurant as well as most of the tables in the waiting area. So this morning, I sat down for breakfast, browsed through the electronic menu, placed my order electronically, swiped my credit card, and waited for my baked eggs and coffee. No fuss. No muss.
Now, let's imagine what it would be like if our doctors' offices (and other healthcare facilities) were as technologically savvy.
A week before my annual physical, I get an alert from the app on my phone letting me know that an order for blood work has been sent to the lab, with a link to its web site. While I'm on the doctor's office app, I update my personal information, including insurance (and email a scanned copy of my latest insurance card), make a couple of changes to my list of medications, and type in the reason for the visit and any concerns.
Before leaving home for my appointment, I tap the app on my phone, which opens up my electronic medical record. I see the results of my blood tests. Unfortunately, it looks like my LDL cholesterol is a bit high. I  check the schedule to see how far behind (if at all) my doctor is. She's running about 30 minutes late, so I text the office to let them know I'm aware of this and will be there in about 30 minutes. Then I stop at a Starbucks for a latte.
When I get to the office, I swipe my phone at the scanner, which automatically signs me in and tells me that I'm next in the schedule. In the meantime, I put my arm in the automatic blood pressure machine, which wirelessly uploads the data to my chart, and weigh myself on the digital scale, which also enters the data into my chart.
In 10 minutes, I'm in the room, gowned, and talking to my doctor. As I feared, my cholesterol is high, but she thinks we can manage it with diet and exercise. She tells me I can find more information on both in the office app, as well as a list of nutritionists who take my insurance.

The app automatically takes the necessary copayment and files my insurance.
I truly believe we're moving in this direction; indeed, I do have an app on my phone that contains my medical record. However, that record is only for my primary care physician and any visits I make to facilities within the  hospital network that owns his practice. It doesn't integrate with my gynecologist's records or contain images from my colonoscopy last year. Nor can I access records from either of those two specialists electronically (you can read more about my frustrations with my gastroenterologist here).
The reality is that only about half of physician offices in this country enable patients to communicate electronically with  doctors and their staffs, according to the Office of the National Coordinator for Health Information Technology. Only about 60 percent of hospitals have  a basic electronic health record system (and only about 40 percent let patients view information from their medical record online, fewer still allow patients to download information), while just a third of clinical laboratories allow patients or their caregivers access to test results. Other disheartening stats about the nation's hospitals:
Only about half routinely notify your primary care provider when you're seen in the emergency department;
Just a third allow you to schedule an appointment online or request a change or update to your medical record
Just 12.5 percent allow you to enter patient-generated data, such as your blood glucose or weight
How do your healthcare providers rank on the digital scale?