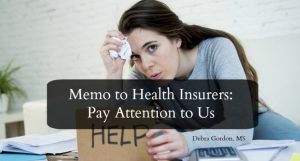 The text came from our 20 year old. His girlfriend had gone to her doctor to get the implantable birth control, Nexplanon, which (as every parent of a teenager might be happy to know) is nearly foolproof for 3 years. Needless to say, we were thrilled.
The problem?
It cost $1,500 and insurance wasn't paying.
The Explanation of Benefits that Was Anything But
Impossible, I said (after all, there's not much I know about but health insurance and the Affordable Care Act [ACA] are two). The ACA requires that most health insurers/employers provide all FDA-approved contraception with no out-of-pocket cost.
It took several back and forths between the girlfriend, her father, and me, including copies of the statement from the insurance company, before I figured it out. She was only seeing the insurance company statement, called an explanation of benefits (EOB), showing what was billed and what was paid. She didn't owe a thing.
And therein likes one of the many problems with health insurance today. It's unnecessarily complicated and confusing. After all, how many mere mortals … Continue Reading