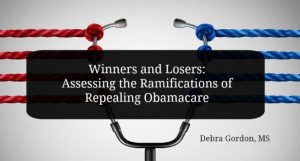 After voting at least 60 times over the past six years to repeal the Affordable Care Act (ie, Obamacare) only to see their efforts stymied in the Senate, the Republican House is fairly foaming at the mouth at their golden opportunity to reach Nirvana now that they also control the Senate.
Indeed, the Senate passed a budget resolution on January 4 to begin the process, instructing the House to have a repeal bill ready by January 27. You can read how this might work in this excellent article in The New York Times.
There's just one problem: Despite the six years they've spent trying to kill the ACA, the Republicans still have no replacement.
So here's just a sneak peek at what might happen if they follow through on their threats.
10 Things We Will Lose if We Lose the Affordable Care Act Insurance for more than 20 million Americans. Guaranteed coverage without higher premiums for those with pre-existing conditions. This would affect the 52 million Americans, about a third of all adults, with pre-existing conditions. (There is talk of keeping … Continue Reading