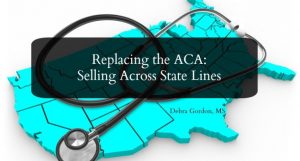 A cornerstone of every Republican plan to replace the Affordable Care Act (ACA), including the president's plan, is to allow health insurance companies to sell their products across state lines. The Republicans claim this will increase competition and drive down costs.
Health policy experts, including the National Association of Insurance Commissioners and the Center for Insurance Policy and Research, say it will do exactly the opposite: Drive up costs and reduce choice, particularly for those with medical conditions.
State Regulations on Health Insurance
First, a bit of background. States regulate all small group and individual health insurance policies through their insurance commissioner, although the federal government sets certain minimum requirements that plans must offer, like the 10 essential benefits required under the ACA.
States can mandate that their licensed insurers add certain benefits, like infertility coverage. They also determine how much older people can be charged for premiums on the individual market and how much money insurers must have available to pay claims.
Next, the Republicans make it sound like federal law prohibits selling insurance across state lines. Nope. That, … Continue Reading