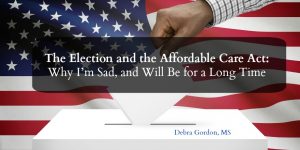 I've been writing this blog on and off for about eight years. And in all that time, I've tried to keep it as apolitical as possible. But, at my core, I am a writer. It's all I've ever done for 30 years. And when writers can't make sense of the world, or don't know what to do with their feelings, well, they write.
So, spoiler alert, I am devastated by Tuesday night's results for so many reasons. For an end to women's reproductive rights. For an end to what I thought was a decent, inclusive country. For an end to a free press. For an end to LGBT rights. For an end to the respect we once had from the rest of the world.
And for the horrific overt racism and homophobia that has been unleashed in this country in just the past few days.
But, since I earn my living as a healthcare writer, the one I'm going to focus on here has to do with the almost-certain death of the … Continue Reading