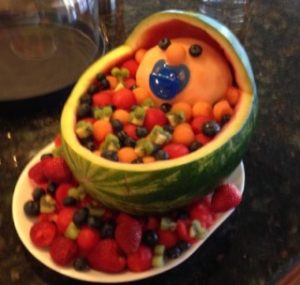 Sunday was the first baby shower I'd been to since. . . well, let's just say that my youngest kid turned 19 a few days ago. There were the mandatory sherbet-colored decorations; a watermelon fruit bowl designed to look like a sleeping infant (complete with pacifier); infused water; chattering ladies; a table piled high with gifts. Only one thing was missing: the guest of honor. For even as everyone arrived for the shower, she was already in labor. And, ever the obliging young woman, she delivered a healthy baby boy before the shower ended.
I'm assuming she had great care in the hospital. Most women who have babies do. But far from the cozy, wood-floored, prettily painted maternity suites lies the healthcare system the rest of us have to deal with. Like another young woman at the shower, 26-year-old Mary.
I happened to overhear her talking to someone else and caught the words "migraine," and "doctor," and "frustrated." Manna to my ears. "What's up?" I asked.
Turns out she'd been having horrific, daily migraines and vertigo for months. The urgent care doctor told her … Continue Reading