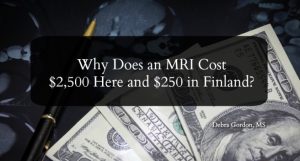 Just had dinner last night with an old friend from Finland. He's a physician so, of course, the talk turned to health care and the differences between our countries. I asked him how much an MRI cost in Finland. With a few clicks on his phone he had the answer: about $250. Not to be outdone, I pulled out my own phone. The average price of an MRI here? About $2,500.
And therein lies the problem. The US spends more per capita on health care than any other industrialized country in the world. And before you say we have the best healthcare system in the world, let me tell you that we don't.
Our country ranks last or near the bottom on nearly every health-related outcome. Our life expectancy has actually dropped in the past couple of years for the first time in decades, with death rates rising for eight of the top 10 leading causes of death. We also have the highest rate of infant mortality, worse than Cuba, Poland, and Slovakia.
It's like paying for a new Mercedes and … Continue Reading