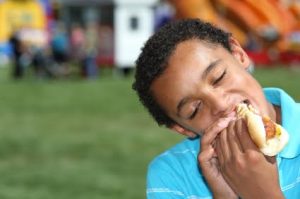 So the American Academy of Pediatrics just came out with a statement that–gasp!–hot dogs (and hard candy, peanuts/nuts, seeds, whole grapes, raw carrots, apples, popcorn, chunks of peanut butter,
marshmallows, chewing gum, and sausages)  pose a choking hazard to young children.
Maybe about a dozen children a year die from choking on hot dogs. So the AAP would like hot dog manufacturers to put warning labels on their products and consider changing the wiener's shape so they pose less of a risk to young children.
I honestly do not know where to start.
My oldest child  just turned 23 and my youngest just turned 14; maybe I'm too old a mother to understand these pronouncements. But you know what. . .I just don't care. I still have to ask the question that I'm sure will get me flamed:
Are you insane????
When I was a "baby" parent of just 23 myself the rule was. . . common sense. I didn't feed my 1-year-old a hot dog or individual grapes because — duh! — they were about the same thickness as his windpipe. Instead, I would dice up the sausage-like meat or fruit into tiny, fingernail sized chunks he could pick up and eat, but couldn't suck down his windpipe. No one told me this; it was just common sense!
I applied the same common sense as my three kids grew up. They never played with nor got near hanging ropes or cords from mini-blinds (and no, I never read the warnings, which didn't even exist when my kids were young); were trained to wear a seat belt in much the same way they learned to put on their underwear before their pants; and knew that homework came first about the same time they learned how to use the remote. Soda as a regular drink? Potato chips as an after-school snack? Failing gym class?
Sorry. Not allowed.
I'm old school; I don't bargain or argue with my kids. I simply give them a choice. .. and both are my choices. As my oldest once told me when I was kvelling about how well he turned out: "You scared me. Fear is a powerful motivator." As my youngest said the other day when we were talking about why his best friend wouldn't be able to come to his birthday party: "His mom is like you; she sticks to what she says when she punishes him."
My point with this discussion? So much about good health relates to common sense. You don't want your kid to die from a hot dog? Either don't feed them to him until he's old enough to chew them up well or dice them up in tiny pieces. You don't want your kid to be 40 pounds overweight in the third grade? Cut out the sugared drinks, junk food, fried food, video games, television watching marathons and sign him/her up for soccer, basketball, baseball, etc. Or should we have labels on television sets and computers warning about the obesity-increasing potential of these appliances? Warning labels on Big Macs, sodas and chocolate cake?
The same philosophy applies to adults. You don't want to spend your adult years going from one doctor to another for your heart disease/diabetes/skin cancers/arthritis/lung disease etc? Do all the commonsense things you know you should do.
Eat right. Exercise regularly. Don't smoke. Use sunscreen.
Do those four things throughout your life and I guarantee you that you will be healthier than more than 70 percent of the current population.
It's just common sense. No labels required.