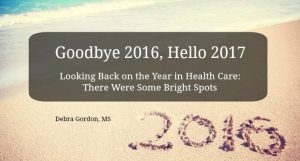 Looking Back on the Year in Health Care: There Were Some Bright Spots
I don't know about you, but I personally hate end-of-year columns. I had to write far too many when I was a newspaper reporter (back in the day when you got ink on your hands while reading a newspaper).
So why am I writing one, you ask?
Sigh. Blame it on the young lady who handles my social media. She's making me.
So here goes.
2016 Highlights in Health Care
There's a lot of moaning on social media about 2016 and what a terrible year it was. And yes, it did suck for many reasons, none of which I'm going to go into here. Instead, I'm going to talk about a few positives on the health care side for which I'm thankful.
Fewer Uninsured Americans Twenty million previously uninsured Americans now have health insurance. Put another way, the uninsured rate in this country has never been lower. Gains Under the Affordable Care Act Many aspects of the Affordable Care … Continue Reading